PRE-SCHOOLER PORTRAITS
I am pleased to announce that I am now running sessions for Mums (or Dads!) and pre-schoolers in The Wick, St Albans every Thursday morning in term time.
Bring them along for some fun parent and child time in the park and capture some relaxed, natural images along the way.  The Wick is a woodland and informal playing field with areas of meadow which was designated as a Local Nature Reserve in 1995.   We will work our way around the edge of the wood, stopping along the way to perhaps search for the gruffalo, cast some spells with the special magic 'stick-wands' (only found in The Wick don't you know!!), count the dogs or even just hunt for a few bugs or butterflies!  Your child will lead the session, and we will go along with the flow.  Prepare to be as silly as it takes!!
As you come to me I am able to offer these sessions at the greatly reduced price of £150 which includes 10 digital files on disc with full print release.  These slots are limited and are not transferrable to alternative days/ locations, so please get in touch to reserve your place now.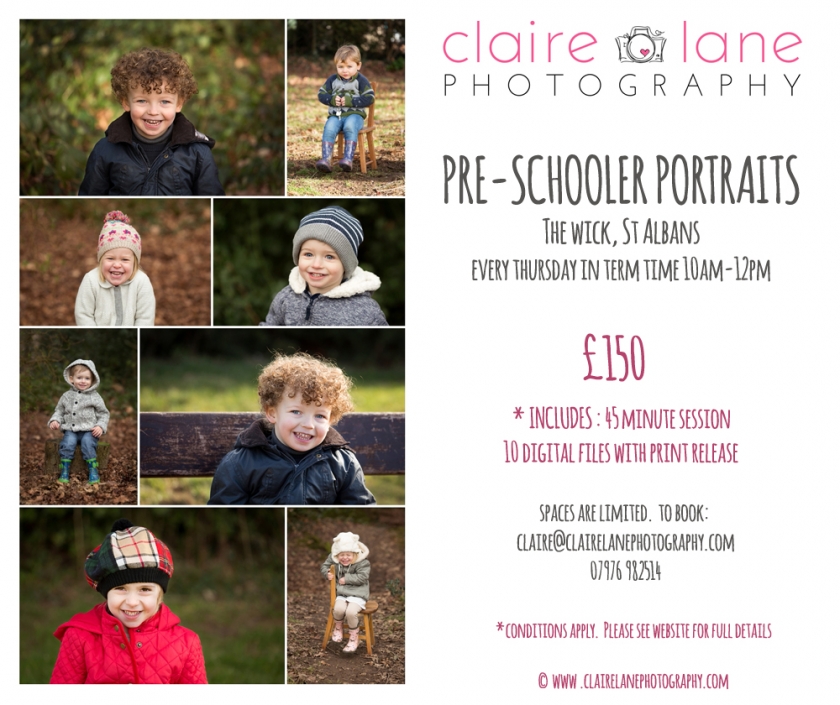 Conditions apply:
All sessions will take place at The Wick, St Albans, meeting at the Marshals Drive entrance
The cost of £150 includes a 45 minute shoot and 10 digital files on disc with print release.  £50 (non-refundable) is payable at booking to secure your slot, and the balance on delivery of the gallery.  The disc will only be delivered once the balance is paid in full
Price valid only for specified day, time and location.  Non-transferrable
Price valid only for one child and one parent.  For a full family shoot please book a family portrait session instead.  Please do not bring along any children not being photographed
In case of unsuitable weather or illness the shoot will be rescheduled to a new mutually agreeable date
In the winter months The Wick can get very muddy so the child must be a confident walker and it may not be suitable for a pushchair.
This is an introductory offer; price may be subject to change.  Only a confirmed booking guarantees this price
Is this the right type of session for me?
These sessions are subject to the conditions above.  If you are looking for pictures of the whole family, you want to be able to dictate the time, day and location (or even multi location), and you want a larger gallery to select from then booking a family portrait session may be the better option for you.
What can I expect?  
Here's some feedback from a few of the recent pre-schooler sessions I have run in The Wick – thank you to these lovely Mums for their very kind words!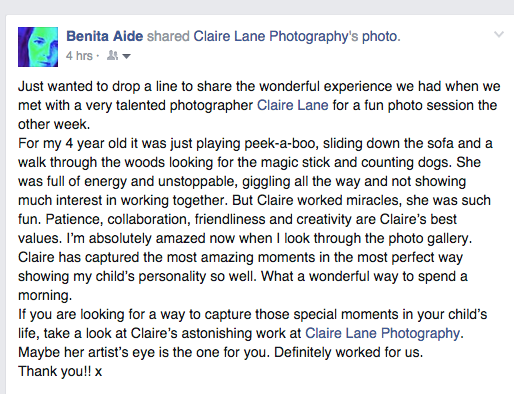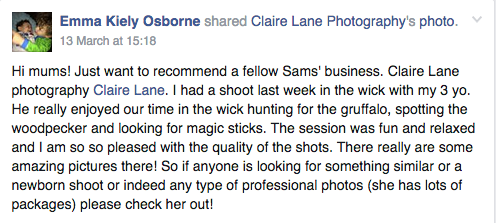 And here's some examples of the types of images you can expect:






And if you live very nearby The Wick (short walking distance) then why not get in touch to discuss doing some pictures at your house followed by images at The Wick?  *additional charge applies due to extra time required, must be pre-arranged in advance – please ask for details:




SPRING FAMILY MINI SESSIONS
I will also be running Spring Family mini sessions in The Wick on the following days:
Wednesday 8th April   I   Thursday 9th April    I   Sunday 26th April
There are a limited number of slots available for each day so please book early to avoid disappointment and I will give you the choice of available time slots.
The cost will be £225 midweek/ £250 weekend for a 45 minute session and you will receive 10 images on disc with full print release.  These sessions are suitable for up to 5 people.