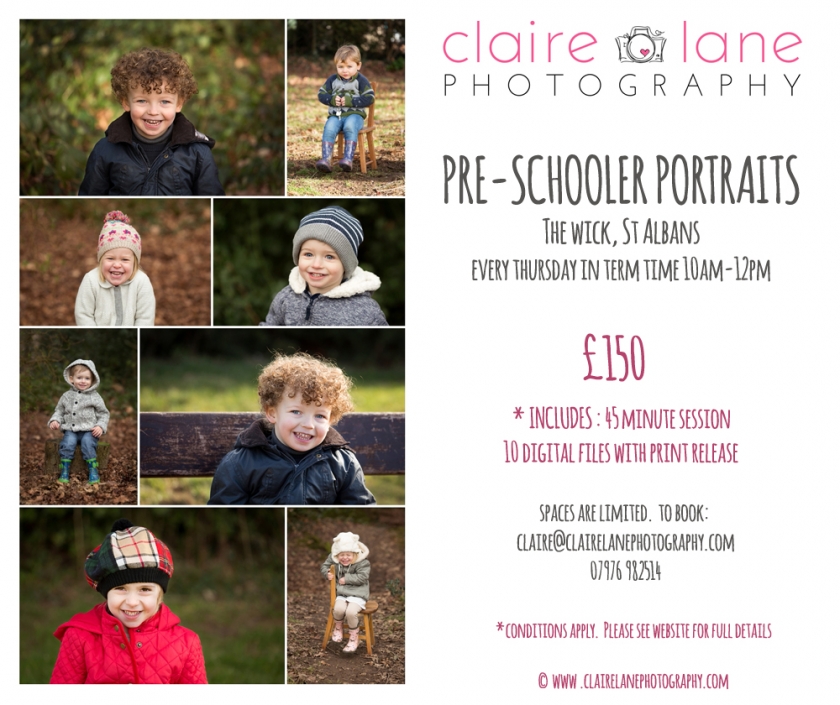 If you would like to see more examples of the types of images you might expect, and some comments from recent customers then please see my blog post here.
Conditions apply:
All sessions will take place at The Wick, St Albans, meeting at the Marshals Drive entrance
The cost of £150 includes a 45 minute shoot and 10 digital files on disc with print release.  £50 (non-refundable) is payable at booking to secure your slot, and the balance on delivery of the gallery.  The disc will only be delivered once the balance is paid in full
Price valid only for specified day, time and location.  Non-transferrable
Price valid only for one child and one parent.  For a full family shoot please book a family portrait session instead.  Please do not bring along any children not being photographed
In case of unsuitable weather or illness the shoot will be rescheduled to a new mutually agreeable date
In the winter months The Wick can get very muddy so the child must be a confident walker and it may not be suitable for a pushchair.
This is an introductory offer; price may be subject to change.  Only a confirmed booking guarantees this price
Is this the right type of session for me?
These sessions are subject to the conditions above.  If you are looking for pictures of the whole family, you want to be able to dictate the time, day and location (or even multi location), and you want a larger gallery to select from then booking a family portrait session may be the better option for you.