We have been to Portugal many times as a family since having children, but always to the Algarve.  We see a little of the beautiful beaches and scenery, and sample some of the local delicacies, but I must admit it is mostly a relax-by-the-pool type of break.  Nothing wrong with that of course, but when the opportunity arose to spend a weekend in the Portuguese capital Lisbon with my jet-setting group of photographer friends from around Europe I couldn't resist!  Last year we went to Amsterdam, and in 2012 to Barcelona, and this trip promised to be just as amazing.
We arrived late Friday afternoon to the promise of a weekend of showers and thunderstorms.  Fearing a repeat of the wettest Barcelona weekend on record we figured we had better get out and about asap.  Lisbon has a great, relaxed vibe and we spent a happy couple of hours on Friday evening wandering the streets as the sun started to set, cameras in hand.  Just a few raindrops towards the end of the evening but by that stage we were already headed to a local wine bar for an evening of local wine, cheese and ham tasting – perfect!
Here's our happy group!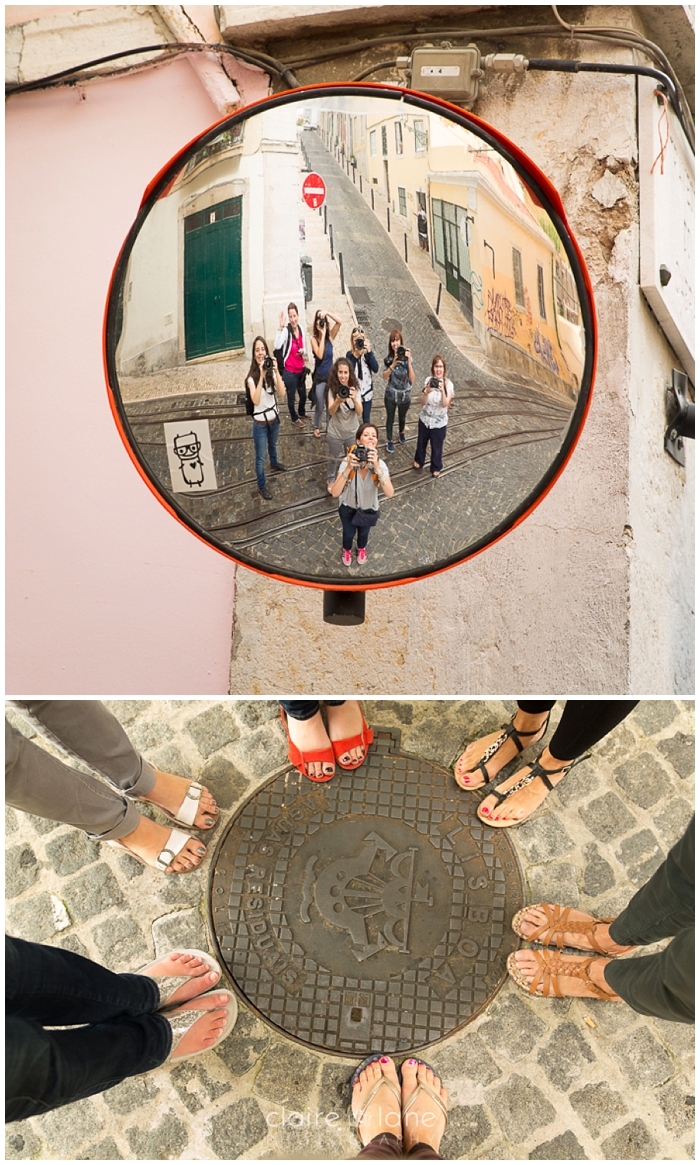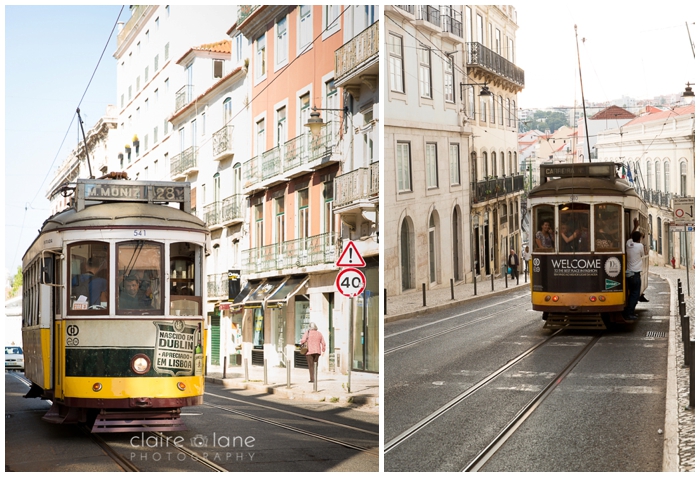 The next morning dawned dry but with the definite promise of thunder in the air.  Inspired by the view from our 3rd floor apartment balcony, and with cameras, rain macs and umbrellas in hand, off we set for a long day of sight-seeing around the city streets.


Of course, you can't start the day properly in Portugal without one of the famous Portugese custard tarts – pastel de nata – for breakfast – delicious!  My daughter is a huge fan of these too, so I had to squeeze several rather messily into my luggage on the way home!


Next stop where else for a bunch of photographers but Rua da Bica de Duarte Belo – the city's most photographed street!






All the colours and the vibrancy are amazing, and such a joy to photograph.  The graffiti which would be frowned upon elsewhere just seems to work here and add to the ambience.






I'd been told about the hills but some of them have to be seen to be believed!  Thank goodness for the funiculars!


Peekaboo Steph!


Time for a well-earned rest at a food court for a healthy smoothie and a not-so-healthy macaron or two!




And then on to Comercio Square….that's one way to do your furniture removals, quite ingenious really!




We've definitely sampled this local delicacy down in the Algarve…












The colourful streets of Lisboa:




After a wonderful few hours spent exploring the city centre streets and being extremely lucky with the weather apart from a couple of showers, we decided to take the No. 15 tram to Belem to capture the sunset.  Well worth the trip, a mixture of San Francisco and Rio de Janeiro all rolled into one with the Lisboa vibe!  And of course the trip wouldn't have been complete without a visit to the famous Pasteis de Belem Cafe for another pastel de nata!




The Discoveries Monument in Belem where Portugal's famous explorers are gigantically sculpted in stone:


Anna capturing the 'wave' pattern on the floor – perfectly flat but very disconcerting!


Well this is certainly true!:


Fun with shadows as the sun started to set…. much to the amusement of the locals!








Wow!






Making our way back home through the underpass.  ISO 20000!


Another beautiful morning dawned and our group split in half – some by train up to Sintra up in the hills and the rest of us up to the Castelo de Sao Jorge in the city centre.  We decided to slowly meandre our way there through some of the back-streets still decked out from a summer fiesta.  It was a lazy Sunday morning and everything was quiet and relaxed.


The morning after the night before:


Flying Julie!


Some of the streets were just like stepping back in time:






We couldn't get over these gorgeous dogs and their proud owner who was more than happy to have them photographed!




View of the castle…..hmm we might be slightly off track, time to hop in a taxi!


Phew, we made it!




And the views over the city were certainly worth the journey!  There's definitely a storm coming in though…










Some of the famous Lisbon tiles:


And that's it!  If you still haven't had your fix of Lisbon then do go and check out the blogs of my fellow travellers, they are all incredibly talented and a very fun bunch to boot!  And I would certainly recommend a weekend break in Lisbon if you have never been – I hope I have whet your appetite!  We are already busy planning next year's destination…..
Rebecca Spencer – UK – http://www.rebeccaspencerphotography.com/
Stephanie Belton – UK & France – http://www.stephaniebelton.com/
Julie Anne Skelton – UK –  www.julieanneimages.com
Louise Freeland – UK – http://www.louisefreelandphotography.com/
Anne Wick – France – http://www.thislittlesoul.com/
Anna Francken – The Netherlands – http://www.amf-photography.nl/blog/
Ana Quiroga – Barcelona – http://losbaltasar.com/