It's been a fair while since I posted here as life has been super busy.  I do need to find the time to update many of my galleries to reflect all the recent work I have been doing.  But instead, I have been working on some rather different images – from our trip of a lifetime in the summer to Borneo!  It's been on our bucket list for a while, and now the kids are finally old enough (12 and 9) to be a little more adventurous we decided to go for it! We all loved it, and had some of the most amazing experiences alongside some incredible bonding time as a family.  I'd like to share a few of my photographs with you and I hope it inspires you to one day visit this amazing island!  The photos are taken with a mixture of my Canon 5d mark 3, Canon G1x mark 2, iPhone and GoPro so some are definitely higher quality than others – but I have included them all here regardless to record the memories from our trip together.
We flew from Kuala Lumpur to Sandakan in Sabah, having first spent a great few days in KL with our friends Imran and Ai Ping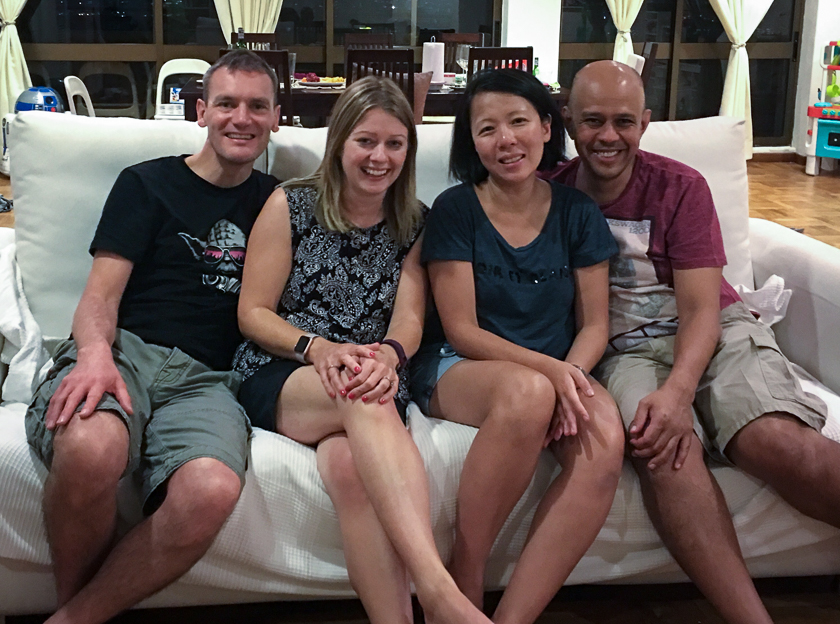 Upon arrival in Sandakan we transferred to our first accommodation, the Sepilok Forest Edge Resort.  We weren't quite sure what to expect but we were very pleasantly surprised by the simple but comfortable accommodation, delicious food and exceptionally friendly welcome.
Of course, the main reason anyone visits here is to go to the Sepilok Orangutan Rehabilitation Centre, and no surprise this is where we spent the majority of our time – I mean, why wouldn't you?!  The Centre was founded in 1964, to rehabilitate orphan orangutans. The site is 43 sq km of protected land and around 60 to 80 orangutans are living free in the reserve, with a further 25 young orphaned orangutans housed in the nurseries.  We all adored seeing these amazing creatures, watching in wonder at their human mannerisms.
Each time we went the children talked with a lovely lady called Ann who was a Liaison Officer for Orangutan Appeal UK, helping to organise the adoption of baby orangutans to raise funds.  Of course there was no way that we were getting out of there without them adopting a baby so Jack is now a proud 'Dad' to Peanut, and Katie a proud 'Mum' to Bidu Bidu!  They really couldn't be any cuter and the kids are excited to receive updates and watch their progress over the next year.
The majority of the pictures that follow were taken at the feeding stations within the reserve, along with some where the orangutans were just roaming freely in the trees above us.  There are two feeding times each day where tourists gather to have the best chance of seeing the orangutans – but of course, they are free to roam and there is no guarantee that they will come – especially if noisy tourists are unable to keep quiet as we unfortunately found on more than one occasion!  Luckily, patience paid off for us, and after waiting almost 40 minutes one day we were rewarded with probably the highlight of our entire trip – Mum and Baby visiting the platform right in front of us!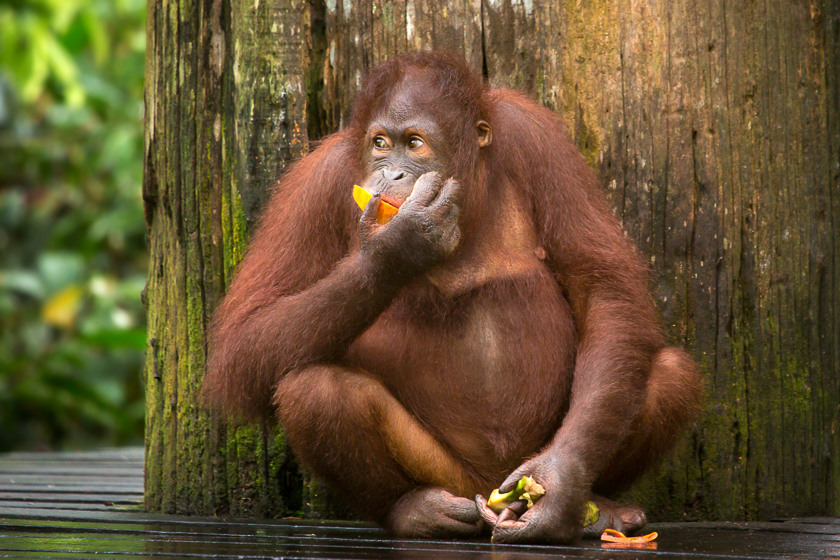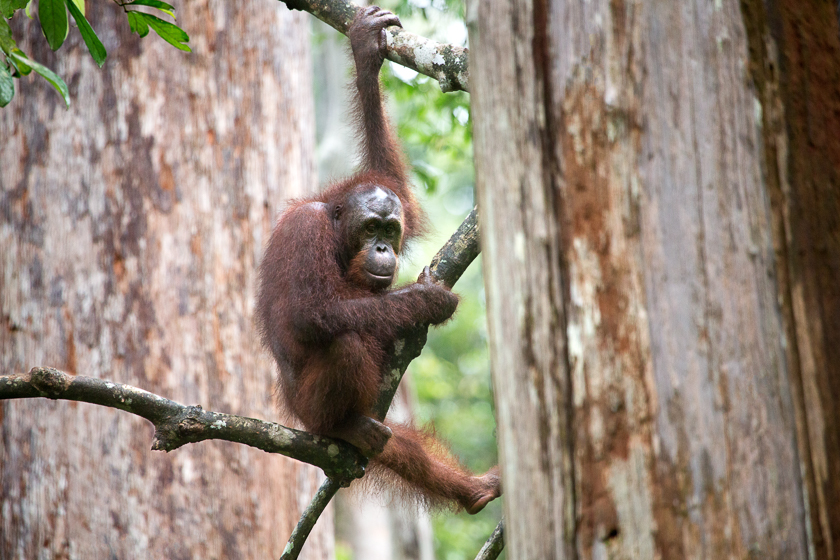 While in Sepilok we also really enjoyed visiting the Bornean Sun Bear Conservation Centre which is right next door to the Orangutan Centre, and home to 44 rescued sun bears.
The sun bear is the smallest, most arboreal and least studied bear. It is the second rarest bear species, after the giant panda.  Their name comes from the pale horseshoe shape on their chests, which is said to resemble the setting or rising sun. No two markings are the same.  Sun bears live in tropical lowland forests and are the only bear in SE Asia. They are mainly diurnal and do not hibernate but build nests in trees to sleep in. They are omnivores and primarily eat invertebrates, fruit and honey.  The total sun bear population has declined by at least 30% in the last 30 years contributing to sun bears being classified as 'vulnerable' in 2007 meaning they are at high risk of extinction in the wild (IUCN 2007).
The Centre is run by Dr Wong Siew Te who we were lucky enough to meet on our first visit as he was out and about watching some of the bears who had climbed to the highest heights ever recorded within the centre – over 50 metres!!  His enthusiasm was infectious, and when the kids' response to watching the bears climb higher and higher was "Wow!" he was clearly thrilled as that was just the reaction he was striving for.  The bears are incredibly difficult to photograph due to being so high and nimble in the trees, and these are the best I managed.  The crew have telescopes set up around the centre to view the bears, and helped the children to take photos with an iPhone through the telescope which they loved.  These actually came out pretty well!  We all fell in love with these gorgeous little bears during our time here.






Our final evening in Sepilok was spent on a night walk at the Rainforest Discovery Centre.  There is a 347m long Canopy Walkway in the Discovery Centre which is where we started our walk.  The walkway is 2m wide and about 25 m above the ground at its highest point. It is very sturdy – much more sturdy than the canopy walkway you will see later in this blog post!  The rest of the walk was spent on the Discovery Trails.
This was a 2 hour walk starting at dusk when we saw the flying squirrels take off from their tree which they do every evening within a 15 minute window.  As it turned dark the jungle really came alive and we saw several pit vipers, scorpions, kingfishers and even a Black Borneo Tarantula!!  Due to a combination of it being pitch black and all the creepies around, my hands were staying firmly in my pockets – so no pictures from here I'm afraid!
Having spent 3 days visiting all these amazing animals we were reluctant to leave, but at the same time excited for the next stage of our trip – a river safari!  It was a 3 hour road trip, and we broke the trip up with a visit to the Gomantong Caves which you might be familiar with from an episode of Planet Earth with David Attenborough!  The caves are famous for their swiflets nests which are harvested for the Chinese delicacy Bird's Nest Soup.  They are extremely valuable, so security guards have to sleep overnight in the caves to protect them from theft.  In addition to the millions of swiftlets there are also millions of bats ….. cockroaches …. spiders ….. venomous centipedes …. the list goes on!!  Needless to say this was not Katie and mine's favourite part of the holiday – but Jack on the other hand loved it!


Having made our way out of the cave and safely back to our minibus we then had another half hour drive or so before we arrived at the Kinabatangan River for the last stage of our trip by boat as this is the only way to access the lodge.  Yes, we were pretty remote by this stage!  We stayed at the Sukau Rainforest Lodge for two nights, incidentally where David Attenborough also stayed when he filmed in the caves, and Room 17 where he stayed is now named after him!  Sukau is a stunning eco-lodge which blends effortlessly into the environment but also provides a fantastic standard of luxury for guests.  The beautiful decor really reminded me of an African safari lodge.


Of course it's all about the wildlife here as well, and we came with high hopes to spot the Borneo 'Big 5' as we went out on river safaris twice a day at dawn and dusk – and once at night too:
Pygmy Elephant
Orangutan
Proboscis Monkey
Crocodile
Rhinoceros Hornbill
Due to the water levels being so high we weren't fortunate enough to see pygmy elephants on this trip – but it's always good to have a reason to return!  We did manage the other four though.  Here are my favourite photographs from the safaris we did – all taken from the boat.  The baby monkeys in these images were just a couple of days old:














































Two days was far too short and we all would have liked at least another day, but it was time to move onwards and upwards – literally!  Yes, we were off to climb Mount Kinabalu, the highest peak in SE Asia at 4,095m.  This was another long drive, around 4.5 hours, and this time we broke the drive up with a brief stop at the Poring Hot Springs.  We unfortunately didn't have time for a dip in the Springs, but we were brave enough to walk around the Canopy Walkway which is the highest in Sabah at 43m – higher than a 8-storey building.  It was a bit hairy in places!!  Don't judge if these photos are not the sharpest – it was swinging like crazy!!


Having survived this little escapade we drove on and soon got our first glimpse through the window of what we were to climb the very next day……. Gulp!


We arrived at the amazingly comfortable and well-equipped Peak Lodge at the Sutera Sanctuary Lodge – what a shame we were only there for the one night!  The views weren't so bad either….


I have to confess that the nerves really set in now… were we mad?  Would we make it?  Could we just skip it and head straight to the beach???  I didn't sleep so well that night, but we were up bright and early the next morning to meet our two guides – two because we had children with us, and they take safety very seriously – Richard and Linus.  They put my mind at rest and assured me it was the easiest mountain to climb – not so sure that is true but it made me feel better!
This was our route up the summit trail: starting at the Timpohon Gate at 1,866m, staying overnight at Laban Rata Guesthouse (3,272m), leaving at 2.30am the next morning to hopefully reach the ironically named Low's Peak summit for sunrise – 4,095m.  To put this into perspective, Ben Nevis stands at 1,344m, Snowdon at 1,085m and Scafell Pike at 978m.  We were starting higher than the tallest peak in the UK!


The walk up to Laban Rata took us around 6 hours, and was good up until about the last 1.5 hours.  It was pretty tough going and we were all getting tired and feeling the altitude.  I may or may not have had a "moment" at one stage, but this is where the family bonding kicked in.  Both Rob and the kids were amazing and supportive, and we got there as a team.  It was worth it – just look at these views:






The world's highest volleyball court:








Sunset on top of the world:


After a pretty bad half a night's sleep we were up at 2am for a quick breakfast – forced down! – and set off for the summit at 2.30am.  Of course it was pitch black, so we were all wearing head torches which was quite an experience to see all the little lights bobbing up and down the mountain.  We walked for around an hour, covering just over 1km in distance and climbing almost 400m in height.  By this point we were all short of breath, but Katie in particular was really struggling with her breathing.  Earlier this year, after we already had this trip booked, she was diagnosed with asthma and it seemed it had finally caught up with her.  We stood at a rest point at 3,660m just short of the Sayat Sayat Check Point, at 3.30am, still in the pitch black and decided that we had come to the end of the road.  It wasn't sensible for Katie to try to continue to the summit, and we would either all make it up together or all return down together.  It was the right decision – within a couple of hundred metres descent she was breathing fine again, and after another rest at Laban Rata she practically skipped down the rest of the way like a mountain goat!  Unlike her mother…..
The trek back down was tough on the knees, especially as it started to rain which made it really quite slippy in places.  It took us around 4.5 hours.  Thank goodness for my walking poles, and also to our lovely Guides for helping us with our bags for the descent.
I think you can see the relief on our faces at this point – we had made it down and now the Shangri-La was calling loud!!!  I couldn't have been prouder at this moment of our little family and what we had achieved – summit or no summit.




And so onwards it was to the last stage of our fabulous trip – the relaxing part at the Shangri-La Tanjung Aru! Oh my goodness – what sheer luxury this was when we arrived!!!  We could barely walk but we were so pleased to be there, and we spent a wonderful few days recuperating in sheer luxury with amazing weather!  We loved every minute. Paradise!


We ventured out one evening into Kota Kinabalu ("KK") for some of the local seafood, and also to see the amazing sunset – it's know as one of the top seven destinations in the world for sunsets and I think you can see why:




Even the sun during the day was interesting – one day we were lucky enough to see this phenomenon called a 22 degree halo – it certainly had everyone around the pool talking!!


And on our last day the legs finally felt up to a little more activity and we spent a great morning paragliding over the South China sea:




And that's it – phew!  I hope you have enjoyed looking through our photos and that you have lived a little of the journey with us!  If you ever get the opportunity to visit this amazing island please jump at it – we will treasure the memories of this fantastic holiday for a very long time to come.
If you have any questions about our trip please just comment below!
Claire, Rob, Katie and Jack Lane
xxxx